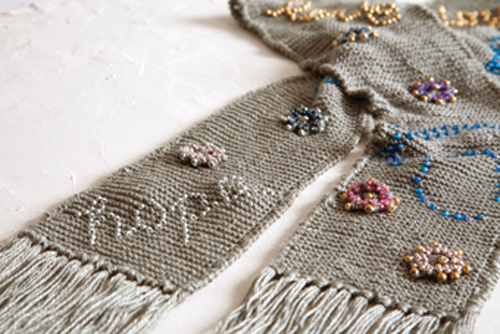 I am very excited to share with you that my bead knitted scarf (shown above) is going to be raffled at the upcoming Stitches Midwest Expo (8/7 – 8/10/14) as a fundraiser for Halos of Hope, a charitable organization I've written about before and that is truly worthy of our support.
But I wouldn't "tease" this raffle if there weren't a way that all of you could have a chance to win the scarf, whether you can attend the Expo or not. Good news! Raffle tickets, at $5 each, which will be available at the event, are now also available for purchase online here: "Celebration of Hope" Scarf Raffle.
Know that you must purchase your online tickets no later than August 3 for them to be included in the raffle!!
You can learn more about the work of Halos of Hope HERE. I hope you'll consider purchasing a ticket. Each raffle ticket sold allows HOH to ship 16 hand knitted hats to cancer centers around the country. Each and every hat makes a difference. We can all make a difference. YOU can make a difference.
And remember that the deadline for online ticket purchases is Sunday, August 3. The winner will be announced in the Stitches Market on Sunday August 10 at noon. You do not have to be present to win.
Thank you in advance for your consideration and support. As always, you know it is much appreciated.