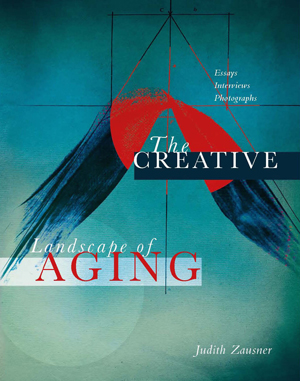 As many of you know, especially if you are familiar with my book "Betsy Beads: Confessions of a Left-brained Knitter," the issue of creativity has been a lifelong interest of mine. Sharing what I've learned about it, with a focus on those left-brained folks among us (like me!), was well worth the two years plus process of writing the book and I could not be more proud of the impact that sharing my personal creative journey has had on so many of you. I am so grateful that you continue to share your own stories with me and they bring me so much joy. There is now a new book about creativity, with a somewhat different focus, that I can recommend to you wholeheartedly.

A year and a half ago, I was interviewed by Judith Zausner for her award winning blog entitled Creativity Matters. The blog consists primarily of interviews with varied artists, with a focus on how their creativity has been influenced by their aging and vice versa, how aging has influenced their creativity. She has now assembled 16 of these interviews along with 21 insightful essays and a lovely photo gallery of the interviewed artists' work. I am honored that my interview was one of those she selected to include in the book.
With her keen eye, quick mind, facile way with words and years of experience studying and passion for her subject matter, Judith has created a book that has much to teach us, whatever our age may be. I hope that many of you will buy it and read what she has to say. Your creative lives will be all the richer for it.
You can find her book for purchase here.